| | |
| --- | --- |
| | BLACK BOOKS |
***************************************************************************************************************************************************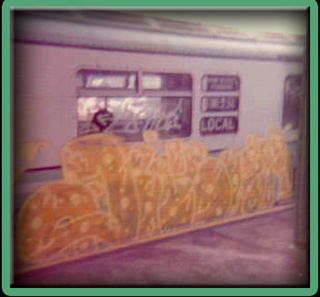 .... DICE 1 started in early 1970's in Bronx New York and continue thru the mid 1975 on the IRT's. He would write for the group 3YB and partner up with one of the all time Legends JACE 2. Dice also went under the alias JED 707 which he used for quick pieces. would keep an old traditional style of writing on the IRTs in the 1970's. Here are a few images from his black book, we would like to thank Jeannie ( wife of Dice 1 ) for sharing her images with us at Subway outlaws. all images are property of Jeannie and family and can not be reprinted with out permission of Subway outlaws.
***************************************************************************************************************************************
Work by ; DICE 1 3YB.
JEANNIE : DICE MOVED TO THE BRONX FROM THE LOWER EAST SIDE. I MET HIM IN THE BRONX. I KNOW HE HIT THE #2 & 5 LINES,
WHEN I FIRST MET DICE HE WAS WITH JACE 2. I KNEW JACE FROM MY OLD NEIGHBORHOOD AND WAS SEEING HIM FOR A SHORT TIME. THEY HADN'T BEEN AROUND FOR AWHILE, BECAUSE THEY SPENT SOME TIME IN SPOFFORD JUVENILE CENTER FOR BEING CAUGHT WRITING ON TRAINS & CUTTING SCHOOL. AT THAT TIME THEY BOTH LIVED IN THE FORDHAM SECTION OF THE BRONX. SOON AFTER THEY CAME BACK I BROKE OFF WITH JACE & WENT WITH DICE. THIS WAS IN 1975.
DICE TOLD ME A STORY OF HOW HE WAS HITTING A TRAIN ONE NIGHT WHEN HE WAS BUSTED BY POLICE. INSTEAD OF FREEZING LIKE THEY TOLD HIM TO, HE RAN AND THEY POPPED OFF A SHOT AT HIM! HE HAS A SCAR ON HIS ELBOW FROM WHERE THE BULLET GRAZED HIM. I CAN'T SAY FOR SURE IF THIS STORY IS TRUE OR NOT, BUT IT IS WHAT HE TOLD ME.
HE USED TO STASH MOST OF HIS GEAR IN MY BASEMENT. WE HAD CANS OF KRYLON & ALL KINDS OF CAPS FOR THEM FROM DIFFERENT HOUSEHOLD PRODUCTS, USED TO MAKE DIFFERENT LINES OR FILL INS. WE HAD BIG PIOLET MARKERS FILLED WITH PAINT AND ALL KINDS OF MARKERS, PENCILS, ETC. HIS BLACK BOOKS WERE STASHED THERE TOO. (I SAY STASHED BECAUSE WE DIDN'T WANT OUR PARENTS TO FIND THEM.) I TOO AM A GOOD ARTIST, BUT ONLY ON PAPER, SO DICE & I SHARED A LOVE OF ART.
| | |
| --- | --- |
| | Dice 1's son. Jeannie : MY SON WRITES ALMOST EXACTLY LIKE HIS FATHER BY THE WAY, BUT NOT ON TRAINS! MY SON USED TO WRITE THE NAME "SPY ONE". THIS IS A "SPYONER". |
***************************************************************************************************************************************************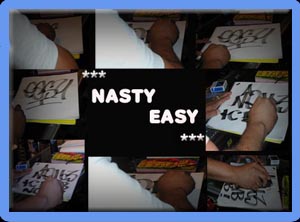 ..... EASY 1 started writing in the 1970's on the E and F line. Easy kinged the E and F's in late 1976 along with his partner EX~1, under the alias NE 163 which stood for NASTY EASY. Here are a few Images from his black book collection. All Images are property of EASY 1 and should anyone have questions please contact us at Message@Subwayoutlaws.com
***************************************************************************************************************************************************
| | |
| --- | --- |
| WAY ONE | EX~1 ( aka KEVIN 97 ) |

| | |
| --- | --- |
| DEN 1. POG | DACE 2. BYB |