HURST aka OI and DEAN BYB aka LE, ON A "LL" TRAIN BROOKLYN 1977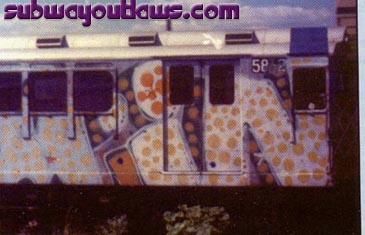 Top-to-Bottom by IN aka KILL3, who was a true All-City king.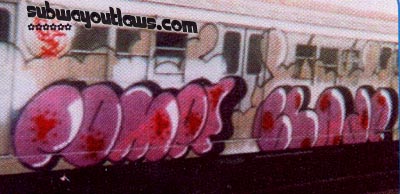 Colorful bubble letter throw-ups by BLADE and COMET, the all time kings of the 2 and 5 train lines.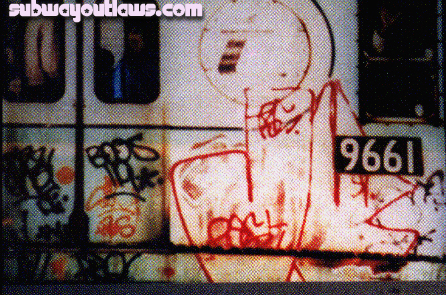 EAST aka JY, Throw-Up done in 1979 on a number 7 train. He was a former subway killer from the 70's. NOTE: the FUZZONE, BOOTS119, PRO1 tags on the left hand side.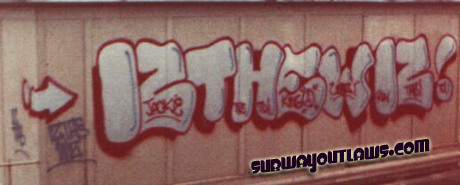 IZ THE WIZ Throw-Up on the subway workers house in 1983. IZ aka IKE 327 was an All-City king for many years.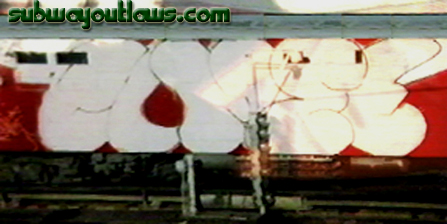 COMET Top-to-Bottom, in a red background, with a white fill, from 1979. COMET is an early writer from the 1970's who later made the transition to Throw-Ups.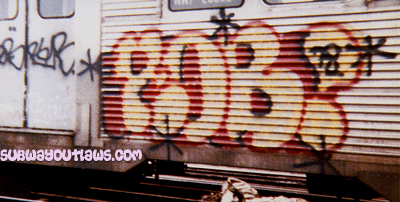 ROB78 Throw-Up on a RR train, in 1978. ROB78 bombed with groups like BYB, PAL, TC, and TSS.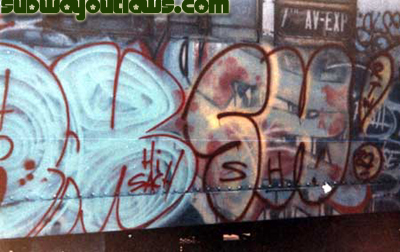 QUIK aka QK with his partner SACH aka SH Throw-Ups were done in 1982.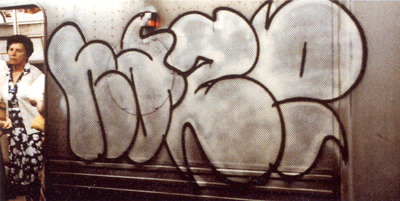 HAZE aka SE3. This Throw-Up was done on an E train in 1983-1984.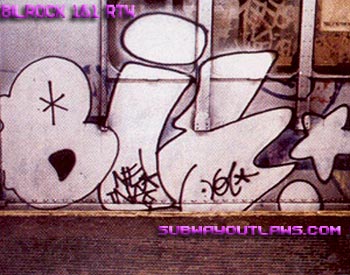 SAGE aka BILROCK, original President of the RTW crew and was an All-City subway writer in the late 70's and early80's .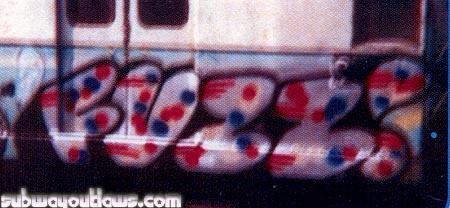 Colorful throw-up by FUZZONE, on the number 7 train in 1980.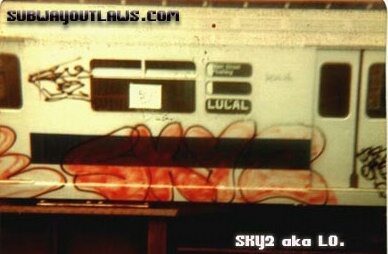 SKY2 former partner of FUZZONE on a number 7 train, in 1980. SKY2 was also well-known for doing LO Throw-Ups.

QUIK aka QK RTW, SACH aka SH RTW, SE3 aka HAZE RTW didn't leave any room for the toys. 1983 - 1984 in the West Village, New York City.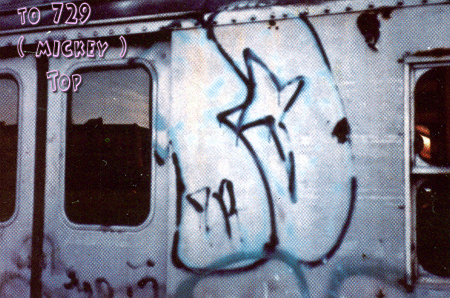 TO 729 aka MICKEY TOP president of the legendary TOP CREW and All-City king.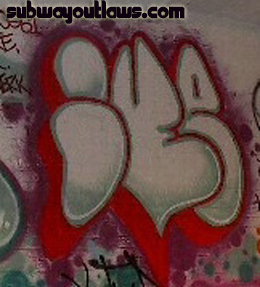 IY189 aka INK76, Throw-Up. He was a member of earlier crews like BYB, TMB, TC, and later helped to form BAD INC.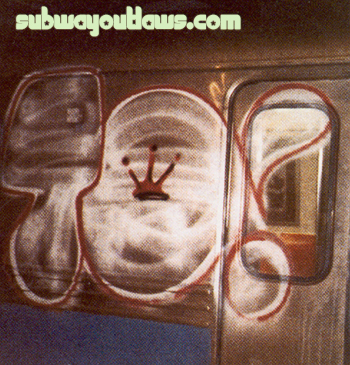 TO aka TRIKE GND, was a true Subway Outlaw who took over Fort Hamilton and Church Avenue lay-ups, in Brooklyn. Other writers were not able to go there without his consent.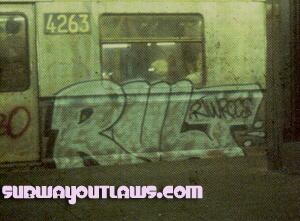 RVLT aka REVOLT Throw-Up done on an A train in 1982. REVOLT is an original member of the RTW CREW.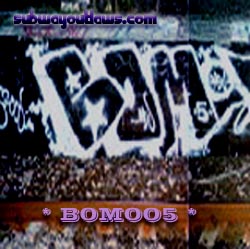 BOM5 Throw-Up done in the Bronx.